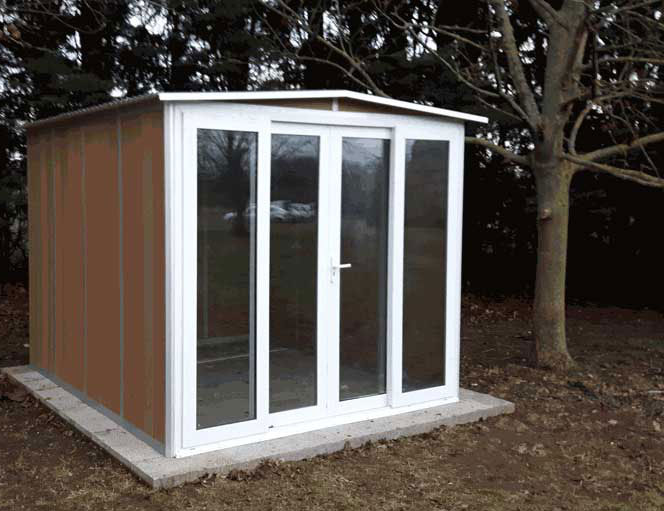 Modena Garden
Room
Stylish, modern addition to any garden
The unique Click system uprights make installing shelves, workbenches or office desks a simple, interchangable and versatile room.
The construction as the Modena but with uPVC 8ft double glazed, independant sliding patio doors.
Image shown is for illustrative purposes only. Doors are supplied in white powder-coat finish and can be painted if necessary.
This is a stylish, modern addition to any garden, creates a space for entertaining, or a quite office room.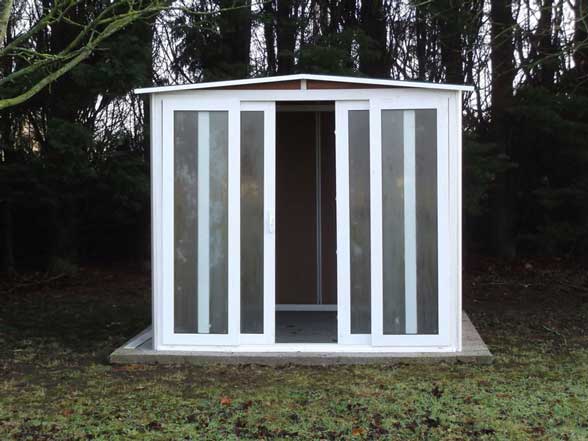 The building is framed using the acclaimed Click Exhibition Aluminum System which provides support uprights within the structure of the walls. This makes the building instantly multi useful, as the uprights within the frame can support shelving, a workshop bench, desk space and a full range of easily interchangeable storage options on all, or any, of the three internal walls.
The wood-look wall panelling does not need lining and is made from another unique material, pulverised and extruded recycled plastic bottles (33%*) and ground wood particles (64%*). There are four wood-look colours available that can be painted if preferred.
* approvable values
The roof uses Leofric's joint-free moulded uPVC roof material, pre-formed with a 6 degree apex. All fixings in the roof are outside the internal area so that roof leaks cannot occur.
The frame is finished in natural anodised aluminum but can be painted by the purchaser to a preferred colour. Thus the building is totally maintenance free. Delivered to your door it can be assembled by anyone with reasonable DIY skills or this can be arranged for you. You can also collect it from our factory by prior arrangement saving delivery costs.
The Modena Garden Room is light weight yet secure and can be mounted on a concrete base, flat patio slabs or our LeoBase.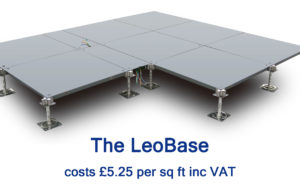 The LeoBase is a fast and easy flooring solution, made from steel and internally filled with concrete. An upper layer of epoxy finish gives a clean floor for your office or work space. It is supplied with height adjustable support feet and a steel frame, giving an excellent alternative to a traditional concrete base and can be moved and relocated if required.
Modena Garden Rooms are available in 2 sizes
8ft x 8ft
8ft x 10ft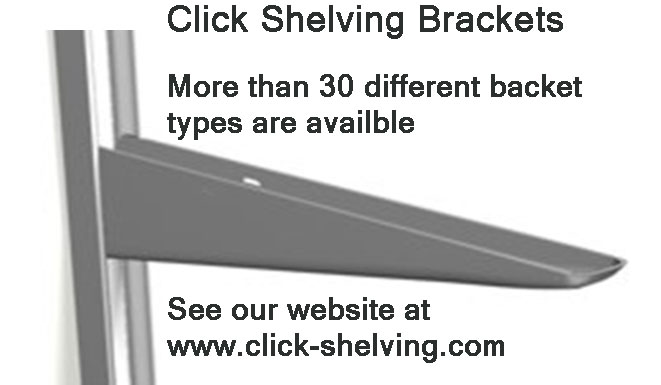 Comes in a choice of 4 colours samples available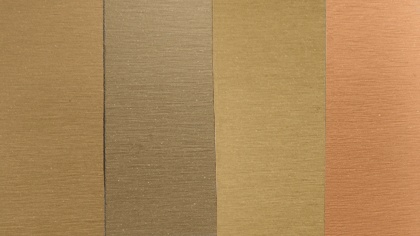 101 102 103 107
* Colour Disclaimer: Actual Product colours may vary from the colours shown. *
DIY
: Savings are available for customers wishing to erect the garage themselves.
Call us now on
0800 316 6390
for more details.
What Next?
If you'd like more information on this, or any of our buildings you can order a brochure free of charge by clicking here. Alternatively, you can call our sales team on 0800 316 6390 if you have any questions or queries.