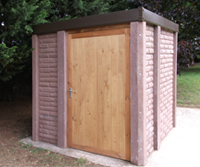 Post & Panel Sheds
Attractive 'Rockwall' Finish
Timber door
Galvanised steel or softwood door
Rot proof polyester coated roof sheeting
Our concrete general purpose sheds, built using the same proven system as our garages, compare favourably in price with equivalent timber buildings but are more durable and more secure.

Roof material is 900/26 Polyester coated profile sheeting. All buildings are supplied as standard with an extra-wide 3ft 4in (1016mm) galvanised door for easy access. The sheds all have a height of 6ft 6in (1980mm). These buildings are highly versatile and can be configured to almost any size. If you don't see the size you need here then call us and we may be able help.
Please Note: The photograph shown above is of a Type 68 shed, with 2ft panel towards rear, and door in left hand position in front wall. (For 6ft 8in walls, the layout of the 2ft and 4ft panels can be reversed from that shown in diagram)
Model
External Length
Span
 
Type 44
4' 8"
1390mm
4' 8"
1390mm
Type 46
4' 8"
1390mm
6' 8"
1995mm
Type 48
4' 8"
1390mm
8' 8"
2615mm
Type 66
6' 8"
1995mm
6' 8"
1995mm
Type 68
6' 8"
1995mm
8' 8"
2615mm
Type 88
8' 8"
2615mm
8' 8"
2615mm
= Garage available in these dimensions.
DIY
: Savings are available for customers wishing to erect the garage themselves.
Call us now on
0800 316 6390
for more details.
What Next?
If you'd like more information on this, or any of our buildings you can order a brochure free of charge by clicking here. Alternatively, you can call our sales team on 0800 316 6390 if you have any questions or queries.