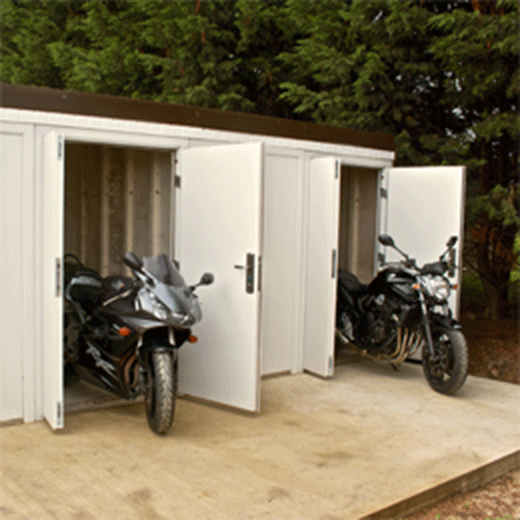 The ideal solution for those smaller but valuable items such as:-
Mobility Vehicles
Wheelie Bins
Garden Machinery & Equipment
Tools
Play Equipment
The simple construction of the MiniStor means it can be assembled in blocks of units, within a small area, quickly and economically whilst knowing the units are of the most secure construction available in its field. Each unit is fitted with shelf support uprights on the rear wall, suitable for clicK shelf brackets.
Constructed of reinforced interlocking concrete panels
15 Year Structural Guarantee
Fort Knox High Security Doors
High security, Double opening Fort Knox doors, giving a
maximum opening of 1050mm
3-point, 9-bolt locking system
Double-skin, 50mm thick white powder coated
Elegant, brushed stainless steel handle
Insulating blanket
Stainless steel cill
(Fort Knox doors are right hand hung and outward opening ONLY)
The MiniStor building is virtually a sealed unit, The fascia roof is of a plastisol coated steel and internally has a double layered, anti-condensation, thermally insulated blank.
Per Unit

External Length: 5ft 9" (1755mm)
Internal Length: 5ft 3"(1600mm)
External Width: 4ft 3" (1295mm)
Internal Width: 4ft(1206mm)
Width Per Bay

2x
8ft 6" (2590mm)
5x
21ft 3" (6477mm)
8x
33ft (100058mm)
3x
12ft 9" (3886mm)
6x
24ft 6" (7468mm)
9x
37ft (11354mm)
4x
17ft (5182mm)
7x
28ft 9" (8763mm)
10x
41ft (12649mm)
DIY
: Savings are available for customers wishing to erect the garage themselves.
Call us now on
0800 316 6390
for more details.
What Next?
If you'd like more information on this, or any of our buildings you can order a brochure free of charge by clicking here. Alternatively, you can call our sales team on 0800 316 6390 if you have any questions or queries.